Anastasia Baran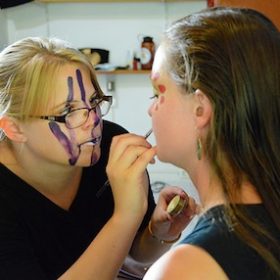 Anastasia graduated summa cum laude with an A.B. in Classical Languages: Greek and Latin from Georgetown University in 2013 and studied at the ICCS in Rome in the spring of 2012.  She was inducted into Phi Beta Kappa and received the Regent's citation from the Faculty of Language and Linguistics as well as departmental honors for her senior project, which focused on the form of hymns, intertextuality, and the relationship between the gods and mortals.
Anastasia attended the Paideia Institute's Living Greek in Greece progam during the summer of 2014. In addition to speaking about Euripides' Bacchae in Ancient Greek, she and her classmates staged an abriged version of the tragedy in the original language for locals in Selianitika.  The play was choreographed and performed in meter; Anastasia did the makeup for the cast and performed her choral duty.
In 2015, she presented her MA thesis "Her Mother's Daughter: Inherited Nature in Sophocles' Electra" to the department.  She focused on the concept of familial inheritance of characteristics and personality traits between Klytemnestra and her daughter Electra in Ancient Greek tragedies about their family, with a primary emphasis on Sophocles' rendition of the myth. More specifically, the paper explored how Sophocles' tragedy emphasizes the shared nature of the mother-daughter pair in a way that undermines the judgment passed by Apollo in Aeschylus' Eumenides and how this seems to mirror a similar shift in contemporary medical discussions of conception.
Anastasia has served as the Humanities Council Representative for the Classics Department for two years and began running the Classics Graduate Student Workshop this past year.  She was the primary organizer of the 2015 UCLA Classics Department's Graduate Student Conference, Bodies in Revolt: Erotics, Metaphor, and Materiality in the Ancient World.
Anastasia's research interests include Greek tragedy, the representation of gender and otherness in Greek tragedy, Klytemnestra, the Greek Novel, narratology, and intertextuality in the works of Hellenistic and Roman poets.