Grace Gillies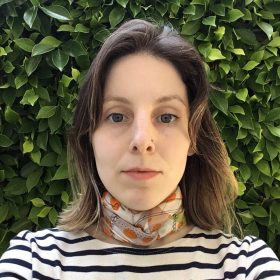 Education
Ph.D.

in

Classics

| University of California, Los Angeles, expected June 2018

M.A.

in Classics | University of California, Los Angeles, 2012

Constructing Domitia Lucilla

(Amy Richlin and Kathryn McDonnell, Readers) 

B.A.

in Classics; Medieval/Renaissance Studies | Wellesley College, 2010

The Development of Garden Imagery in Ovid's Metamorphoses

(Liz Young, Adviser)
Research
Roman satire and invective literature
Theory and ancient concepts of disgust
Pompeian graffiti
Ancient street and popular culture
Slaves and slavery
Women and gender
Feminist theory
Roman homosexuality
Roman comedy and theater.
Dissertations
Despicable Cities: Urban Sites of Disgust in Roman Satire and Related Genres 

Committee: Amy Richlin (Chair), Robert Gurval, Chris Johanson, Maite Zubiaurre (Spanish/Portugese Department
Awards and Honors
Dissertation Year Fellowship  | UCLA, 2017-2018
Citation for Teaching Excellence | UCLA Classics Department, 2017
Collegium of University Teaching Fellowship | UCLA, 2015-2016

Undergraduate course designed: "The Lives of Slaves in the Ancient Roman World"

Graduate Research Mentorship | UCLA, 2013-2014

"The Role of Theater in the Sicilian Slave Revolts" (Kathryn Morgan, Reader)

Seinfeld Scholarship | 2006-2010
Conference Presentations
"Street Harassment in Martial 2.17."  Feminism and Classics VII.  Seattle, WA.  May 2016.
"Constructing Identity in the Sepulchral Relief of Fonteia Helena and Fonteia Eleusis."  Society for Classical Studies Annual Meeting.  San Francisco, CA.  January 2016.
"Staging Revolt: Theater in the Sicilian Slave Wars."  Society for Classical Studies Annual Meeting.  New Orleans, LA.  January 2015.