The Department sadly announces the death of Professor of Classics Emeritus, Philip Levine. He passed away on Sunday, November 25, 2018 at the age of 96.
Philip Levine was born on September 8, 1922, the youngest of three children, in Lawrence, Mass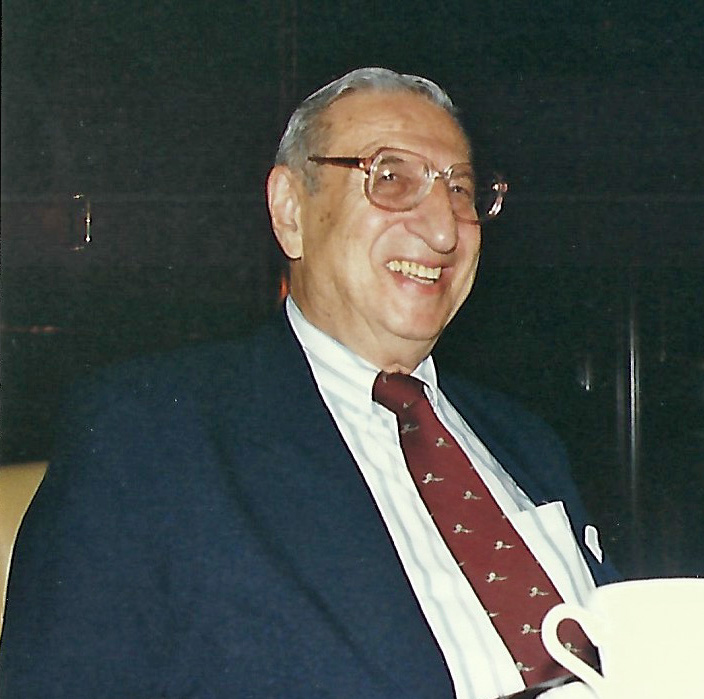 achusetts. His parents, Samuel Levine and Jennie Dekark Levine, were Jewish immigrants from Russia who later met and married in the United States. He attended Lawrence High School, where most of its graduates worked in the local mills. He grew up deeply religious and very poor, a child of the Great Depression. Hard work and education became his salvation. Harvard and UCLA were the two mainstays of his long and rich life. He graduated from Harvard University (the only school to which he applied, and, he admitted years later, mostly because of its proximity to home) with an A.B. in Classics, Phi Beta Kappa. The outbreak of the Second World War interrupted his education, and after three years of service in Military Intelligence as an interrogator in Europe (1943-46), he earned his degree. Originally intending to study Mathematics, he found his passion inspired by his Greek teacher, the renowned classicist Werner Jaeger. He later earned his A.M. (1948) and Ph.D. (1952) in Classics also at Harvard University.
He taught at Harvard University for seven years and The University of Texas at Austin for two before coming to UCLA in 1961 as an Associate Professor. Promoted to Full Professor soon afterwards, he was the Chair of the Department of Classics twice and Dean for the Division of the Humanities, College of Letters and Science (1965-1983). While Dean, he continued to think of himself first and foremost as a faculty member serving in an administrative capacity only in the interests of the larger academic community. In fact, throughout his career, he was a strong proponent of shared governance and a stout defender of the faculty voice in university affairs. Appointed to his position by Chancellor Franklin D. Murphy, he often later remarked on the incredible will of the university at that time to expand and set no limits on its goals and aspirations. During his long tenure committed to administrative service as Dean, UCLA grew to become one of the nation's top-ranked research universities, gaining a well-respected reputation in the Humanities, and especially in foreign languages.
Among his academic honors, Professor Levine was a Guggenheim Fellow and Fulbright Research Scholar in Italy (1957-58). He received the Bromberg Award for the Humanities, Cavaliere dell'Ordine al Merito della Repubblica Italiana, and an honorary Doctor of Hebrew Letters from the University of Judaism. He was also the John and Penelope Biggs Resident in the Classics at Washington University. In 1998, he received the Emeritus of the Year at UCLA, perhaps one of his proudest moments, for recognition of his continued service in what he joyfully deemed "the blissful state of emeritude."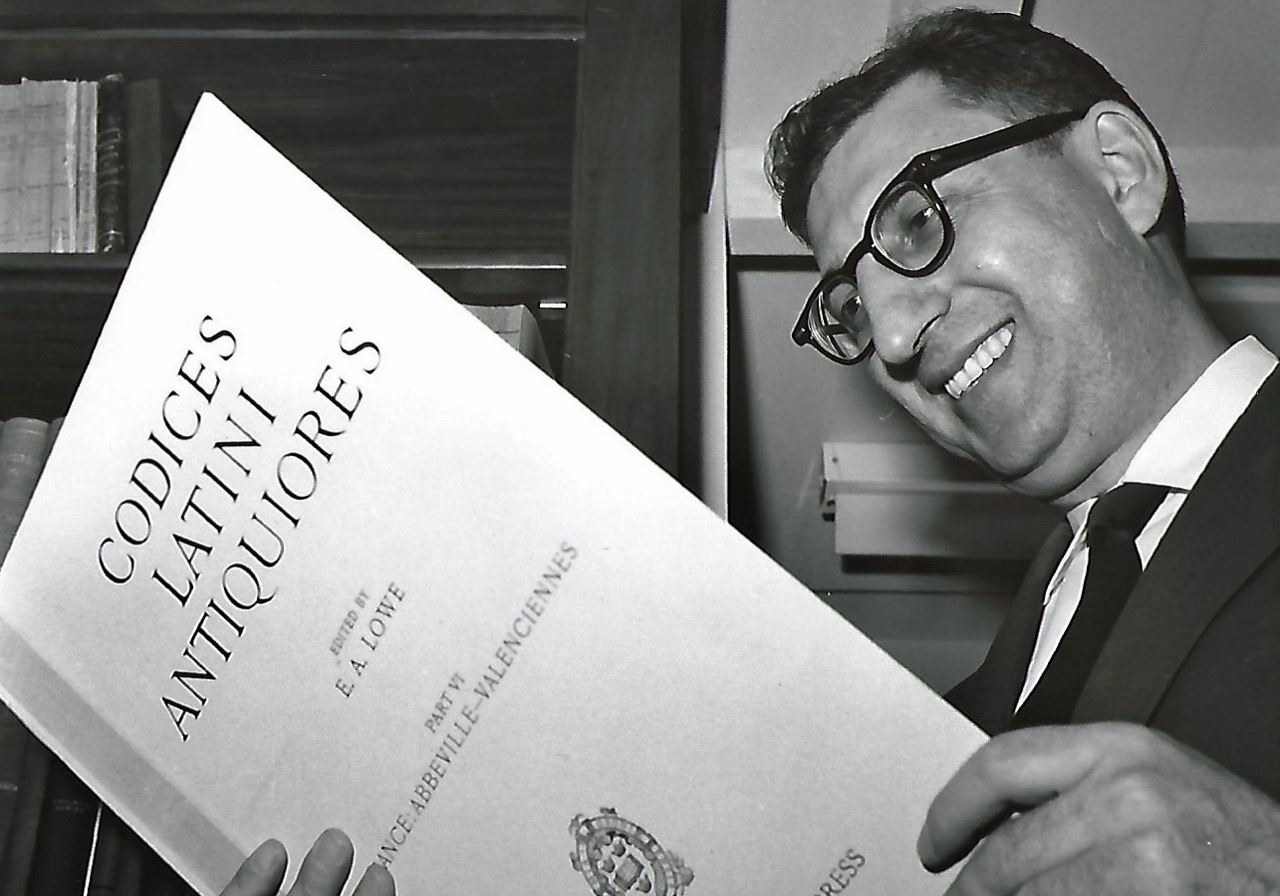 His primary research was in the field of paleography and philology. His Harvard dissertation focused on the calligraphy of late antique and medieval manuscripts found in the northern Italian town of Vercelli. His own photographic facsimiles of these manuscripts have been kept by the Department. While a Fulbright Scholar he also inspected manuscripts in the Vatican Library collection. He published articles on a range of authors from Lucretius to St. Gregory of Nyssa in Harvard Studies in Classical Philology, California Studies in Classical Antiquity, Speculum, and Maia. A longtime project was an edition of Dionysius Exiguus' translation of St. Gregory's περὶ κατασκευῆς ἀνθρώπου (De conditione hominis) which produced, as one colleague notes, fascinating published observations on Dionysius' prose-rhythmical technique. He was the translator of the Loeb Classical Library edition of St. Augustine, City of God, Books 12-15 as well as the editor of the popular Twayne editions on the Roman writers, Quintilian, Horace, Petronius, Seneca, Perseus, Terence, and Augustine.
Latin remained a great passion throughout his life, as he read, translated and taught the ancient pagan and Christian authors. After his service as Dean, he returned with much enthusiasm to full-time teaching (Deans at that time often continued to hold half or partial teaching loads). Courses on the lyric poets Catullus and Horace and Latin Prose Composition (this last the bane of many undergraduates and graduates alike) were his particular delight. He was much loved by students for his kindness and good humor even when explaining supines and periphrastic constructions. While an instructor at Harvard, he started his practice of keeping 3×5 enrollment cards for every student he taught in a Greek or Latin course, asking them at the start of class to inscribe their name, address and previous coursework. Years later, when several of these former students became distinguished scholars and lectured at UCLA, he gleefully brought out his old file cards and reminded them of their undergraduate years (and sometimes grades!). He also took a keen interest in the Department's graduate program, which started to offer Ph.D.s only a few years after his arrival at UCLA. He worked tirelessly in an effort to redesign the program to bring it into line with changing conditions and changing needs. Indeed, the central features of the UCLA M.A. program in Classics today, the survey courses in Greek and Latin literature and the prose composition requirements, followed the basic principles he first outlined to the Department in the early 1980s.
Colleagues fondly recall how as professor and Dean, he always enjoyed to play with dialect and accents. He maintained with a smile that he spoke Piedmontese, learned during his time conducting research in Vercelli, rather than Italian. He grew up speaking only Yiddish at home until chastised by an elementary school teacher at Lawrence. He continued to speak Yiddish throughout his life, warding off bad omens by the phrase 'pfui daibel' and affectionately calling a junior colleague, 'Daivid' (vowel pronounced as in 'die'). Another colleague still remembers when he first arrived at the Department that Dean Levine was the first classicist that he ever heard to know and exchange words in Yiddish. As a senior member of the Department, he often tried to make new faculty feel welcome and introduce them to local restaurants in Westwood and his Beverly Hills neighborhood, which had been his home since he arrived at UCLA.
During his years at UCLA, the Department of Classics changed homes thrice. As one of the founding departments, Classics (originally Latin) held offices in the first building on campus, the Italian Romanesque Royce Hall before moving to Bunche Hall in the 1960s, widely disparaged at the time for its architecture and "waffle" windows. The physical move, advocated by Dean Levine not without some regret, also represented a growing shift in the field of Classics from Humanities to the Social Sciences. Later, in his retirement years, the Department relocated to Dodd Hall, where keeping an office, he regularly came to campus (and his beloved Faculty Center) and met a new generation of classicists. The jovial wit and charm of Professor Levine resounded in all those buildings, and has been sadly missed by colleagues, students and staff who knew him. He was preceded in death by his loving wife of 32 years, Dorothy 'Dinnie' Moseson Levine. He is survived by his sons, Jared (Lucy) Levine and Harlan (Tracy) Levine, both graduates of Harvard University like their proud father, and his four grandchildren Zachary, Zane, Zoe and Hannah. The transcripts for his interviews for the UCLA Oral History Project (made in January-March 1998) may be found in the Special Collections, Young Research Library.
Donations in his name can be made online to the City of Hope or by mail at City of Hope, Office of Philanthropy, 1500 E. Duarte Rd. Duarte CA 91010 (memo line: in memory of Philip Levine).