Celsiana Warwick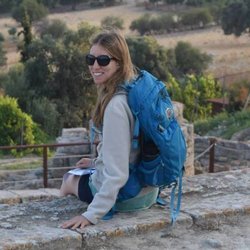 Celsiana is a Ph.D. candidate in Classics at the University of California, Los Angeles. She received her B.A. in Classics with highest honors from the University of California, Davis in 2012, with a double minor in Anthropology and Linguistics. Her undergraduate thesis focused on post-Homeric representations of Achilles and Patroclus in Greek literature and the ways in which portrayals of the two heroes were influenced by shifting paradigms of masculinity and sexuality. In 2014 she received her M.A. from the University of California, Los Angeles. Her M.A. paper, entitled "The Maternal Warrior: Achilles and Gendered Similes in the Iliad," argued that maternity in the Iliad is associated with martial protection, and that Achilles identifies his own problematic role as the protector of his comrades with the figure of the Homeric mother who is both protector and destroyer of her own offspring.
In 2015, Celsiana participated in the American School of Classical Studies at Athens Summer Session, which allowed her to deepen her study of Greek art and archaeology. In addition to her graduate coursework in Classics at UCLA, Celsiana studied Sanskrit for two years and enrolled in Gender Studies seminars. In 2016, she completed the UCLA Graduate Certificate in Gender Studies. Celsiana advanced to candidacy in June of 2016. Her qualifying paper, "Christian Martyr as Homeric Hero: A Literary Allusion in Perpetua's Passio," explored the possibility of Hector serving as a model for Perpetua as she attempted to navigate the conflicting demands of her family and her faith. Celsiana's dissertation is entitled "For Those Yet to Come: Gender and Kleos in the Iliad." This project argues that Homer's Iliad expresses a critique of heroic glory by constructing feminine voices and perspectives in opposition to the masculine warrior ideology that privileges the pursuit of glory above all else.
Celsiana's research interests include Homeric epic, Greek poetry, Gender and Sexuality, Women's Writing, Martyr Narratives, and Homeric receptions. Her ambition in life is to learn every language that appears in T.S. Eliot's The Waste Land.