John Tennant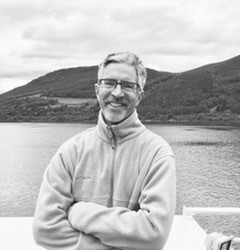 John earned a Bachelor of Science in Foreign Service from Georgetown University (summa cum laude, Phi Beta Kappa) and a Juris Doctor from Harvard Law School (cum laude).  John worked as a union-side labor lawyer — primarily for public safety unions — before returning to graduate study in Classics.  In 2002-03, John received a Fulbright Post-Doc Research Fellowship to work with police unions and immigrants' rights advocates in Paris, France, studying the ways in which tensions might be reduced in the Parisian suburbs between rank-and-file police officers and the primarily Muslim immigrants from the Maghreb.
In 2013 John received a Master's in Classics (Ancient Philosophy) at Stanford University, focusing on the intersection of philosophy and poetry/literature in the dialogues of Plato.  Now in his fourth year of study at UCLA Classics in the PhD program, John – a longtime devotee of the writings of Plato – is working on Plato's use of proverbs and maxims in theRepublic, which appears to be an integral part of what John sees as Plato's larger project of an attempt to reform the discourse of a society in the throes of a politico-discursive crisis.  An earlier work by John on Plato's attempted reformation and reformulation of legal oratory ("Plato's Apology as Forensic Oratory) was published by the Brazilian journal, Revista Archai, in 2015.
In January 2016, John delivered a paper ("Sublime Failure") at the Society for Classical Studies' Annual Meeting in San Francisco on the concept of failure in Longinus' On the Sublime and how failure plays a vital role in the creation of the sublime.  (This paper had grown out of an earlier version that John delivered at Cambridge University in 2014 at the Annual Meeting of Postgraduates in Ancient Literature).
John is also very interested in pastoral poetry and is currently working on a paper that explores what John sees as Vergil's sustained attempt to achieve in his poetry a reconciliation between the brutal forces of history and the fragility of language.