Silvio Curtis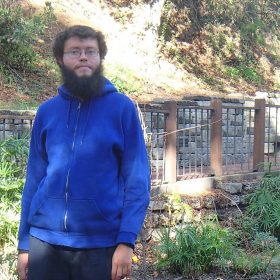 Silvio studies classical linguistics and literature. On the purely linguistic side, he is interested in the historical linguistics of Greek and Latin and the reconstruction of Proto-Indo-European. On the literary side, he reconstructs the development of Greek and Roman myths and narrative patterns from their predecessors in Indo-European and non-Indo-European languages, and he takes an interest in typological patterns across historically unrelated human cultures. His M.A. thesis provides evidence that hospitality type-scenes in Homer reflect a regional pool of narrative conventions also found in Hittite and Ugaritic texts.  Silvio also works on classical reception in Neo-Latin literature and in contemporary fantasy and science fiction. His research usually focuses on the social structure of ancient cultures, especially foreignness – that is, how people defined where they or other people came from, and why they cared.
Silvio speaks Latin – si videas eum, quaeso salutes!
Education
M.A., Classical Languages, University of Georgia, 2015

M.A. Thesis: "The Structure of Hospitality Type-Scenes in Homer and Hittite Mythology: Evidence for an Eastern Mediterranean Tradition"

B.A., Classics (with honors) and Mathematics, Grinnell College, 2012
Papers Presented
"Aztlán Meets Troy: Roman and Aztec Mythology in Villerías's Guadalupe." KFLC: The Languages, Literatures, and Cultures Conference, Lexington, Kentucky, 2015.
"Magno Sibi Usui Fore Arbitrabatur: Colonialist Surveillance in Caesar's British Expeditions." CAMWS meeting, Boulder, Colorado, 2015.
"Greek δόλος and Proto-Indo-European *dolH-: Semantics and Etymology." CAMWS Southern Section meeting, Fredericksburg, Virginia, 2014.
"Stories on Temples: Monumental Art and Characterization in the Aeneid." XIV A.D. SAECVLVM AVGVSTVM Conference, Lisbon, Portugal, 2014.
"The Description of the Host in Homeric Hospitality Type-Scenes." KFLC: The Languages, Literatures, and Cultures Conference, Lexington, Kentucky, 2016.
"War Without End: Anti-Militarism, Ecphrasis, and the Structure of History in Le Guin's Lavinia." CAMWS meeting, Williamsburg, Virginia, 2016.