Tassos Boulmetis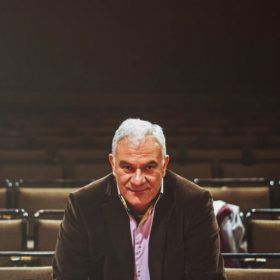 Tassos Boulmetis studied Physics in the University of Athens and Film Production and Direction at the University of California (UCLA), with a scholarship support from the A. Onassis Foundation. At UCLA he taught as a teaching assistant classes on directing actors for film and television.
In Greece he started his career as a director/producer of TV shows. In 1990 he wrote, directed and co-­produced the film "Dream Factory" which was shot on video and then transferred to 35mm film. The film obtained 8 awards in Greece and the Golden Award of Fantasy Movies in the Houston Film Festival. For several years he has directed many TV Commercials for Greek and European agencies. His second feature was "A Touch of Spice" which he wrote, directed and co­-produced. This project is a labour of love for him as the story is based, mostly, on true facts drawn from his own life. The film became the biggest hit ever in Greece with over 1.600.00 admissions and has been distributed in 45 countries in all over the world. A "Touch of Spice" has been presented in several festivals around the world and has been awarded with 8 Awards of excellency in Greece. The film was Greece's official entry in the Academy Awards of 2005.
His recent academic activities include, teaching classes on Advanced Film Directing, in private institutions in Greece. He is the first unanimously elected president of the Hellenic Film Academy. MYTHOPATHY, his third feature is a comedy of a coming of age story of a young man during the 70's in Greece, while his latest work is 1968 a docufiction about the legendary basketball final that took place in April 4th of 1968, the day Dr. Martin Luther King was assassinated , between AEK vs SLAVIA of Prague. That was the first ever international victory of a Greek team after the foundation of the Greek state.
He is also a member of European Film Academy.