Joe Goodkin | The Blues of Achilles
May 6 @ 2:00 pm
-
4:00 pm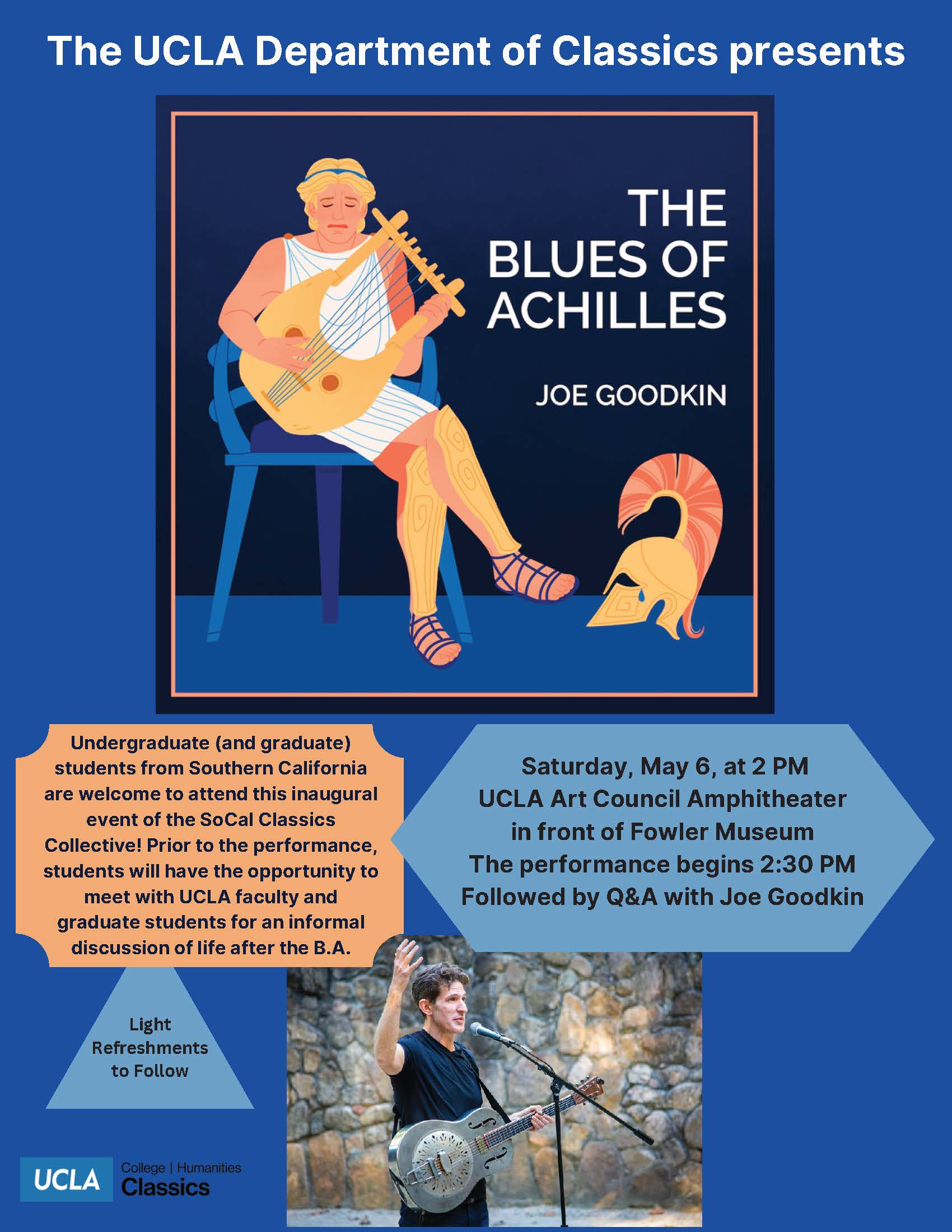 This Saturday Joe Goodkin will perform "The Blues of Achilles" at UCLA. Undergrads, postbaccs & grads from across Southern CA are welcome to attend this inaugural event of the SoCal Classics Collective, beginning at 2:30 pm at the Fowler Amphitheater. The performance will be followed by light refreshments and Q & A with Joe Goodkin.
Prior to the performance (2pm) students will have the opportunity to meet with UCLA faculty and graduate students for an informal discussion about life after the BA.
Joe Goodkin is a Chicago-based singer/songwriter. He tours the country performing his one-man folk-opera interpretation of Homer's Odyssey (over 350 performances in 46 US states, Canada, Greece, Italy, and The Netherlands) and for years released music under the name Paper Arrows (five records total). In 2020, he premiered a new classically-inspired work, The Blues of Achilles, a 17 song reimagining of Homer's Iliad, and performed both classically-inspired works extensively during the pandemic in the Zoom environment. From 2015 through 2017 he released a trio of EPs entitled Record of Life/Loss/Love and in 2019 a collection of live recordings entitled (somewhat confusingly) Paper Arrows. Throughout 2020 (yes, even during the pandemic) he released a new song a month. In 2022 he released a recording of The Blues of Achilles tracked by Steve Albini at Electrical Audio Studios.