Symposium: A Celebration of International Greek Language Day
Feb 9, 2020 @ 2:00 pm
-
7:00 pm
Royce Hall 314,
10745 Dickson Plaza




Los Angeles

,

CA

90095

United States
+ Google Map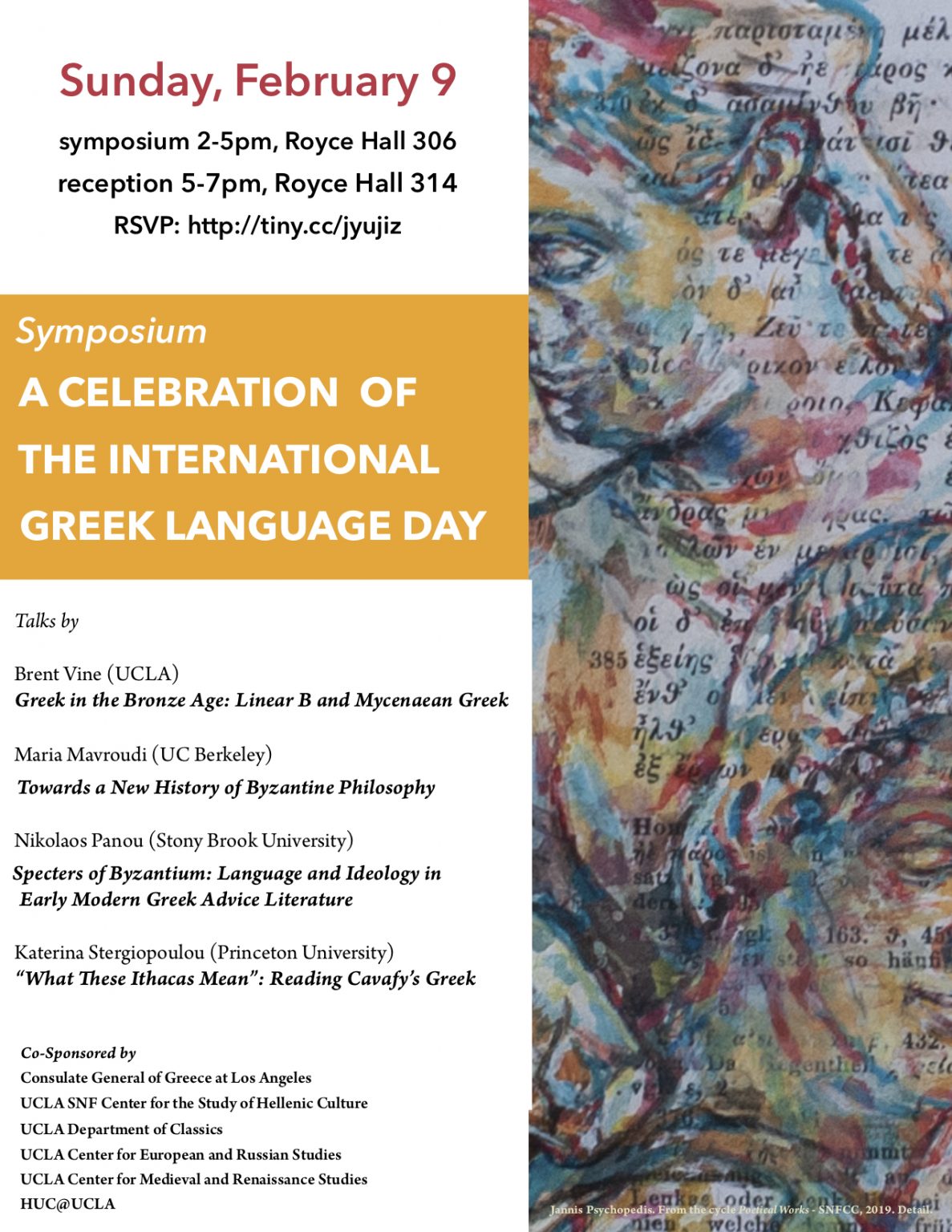 Symposium: International Greek Language Day | Sunday, February 9
Abstracts of talks
Brent Vine (UCLA). Greek in the Bronze Age: Linear B and Mycenaean Greek.
2:10-2:50pm    
Almost unique among languages of the world, the Greek language provides continuous written documentation over a span of more than three millennia, and has retained its identity as "Greek" for most of that period. For Greek in the Bronze Age: the 1952 decipherment of the Linear B script was one of the most exciting developments in the 20th-century study of language and linguistics, as well as Classical studies. Yet there are some widespread misconceptions about the documents in Mycenaean Greek (the language of the Linear B texts): one often hears, for example, that these texts are so fragmentary and recorded in such dull formats (almost all of them are lists, and they are filled with personal names) that they preserve little of interest. In this presentation, we will take a close look at Linear B and some of the documents in Mycenaean Greek, so as to illustrate the remarkable interest of this early form of the Greek language and the information it offers us — not only about the history of the Greek language, but also about early Greek and Ancient Mediterranean culture.
Maria Mavroudi (UC Berkeley). Towards a New History of Byzantine Philosophy.     
2:50-3:30pm
Almost thirty years ago, the historian of medieval philosophy Alain de Libera explained that Byzantine philosophy is "poorly understood, frequently scorned, little studied, and never translated". Today, philosophy remains one of the least cultivated fields within Byzantine studies. Claims that it is, at best, an inferior by-product of ancient Greek philosophy, continue to be articulated. The lecture will explain how the modern study of the history of philosophy led to such a conclusion, and what place philosophy occupied within Byzantine literary culture.
Nikolaos Panou (Stony Brook University). Specters of Byzantium: Language and Ideology in Early Modern Greek Advice Literature.
3:40-4:20pm
This presentation will focus on the reception of Byzantine imperial ideology in the late seventeenth century and its textual uses as a key element for the representation and legitimization of sovereignty in the semi-independent Danubian Principalities at the northern periphery of the Ottoman Balkans. Produced by Greek-speaking authors under the auspices of increasingly powerful Orthodox rulers, the texts under consideration were designed to serve specific propagandistic agendas but in doing so they also contributed both to an intense process of interethnic contact and to a reconfiguration of fundamental moral and political concepts in the region at a crucial point in its history.
Katerina Stergiopoulou (Princeton University). 'What These Ithacas Mean': Reading Cavafy's Greek.
4:20-5:00pm
Critics and translators have often noted the richness of diction in the work of modernist Greek poet C.P. Cavafy's (1863-1933), as well as his frequent shifts between registers of Modern Greek; as David Ricks puts it, "Cavafy's modernity resides so essentially in his refusal to reduce the incongruent or even competing idioms of Greek, in all its longevity, to a single idiom." In my paper I will be thinking about this question of idiom through the often-neglected lens of Cavafy's use of (sometimes lengthy) citations from classical and postclassical Greek texts. I will be arguing that the implications of these citations—which range from Aeschylus to Plutarch to Byzantine authors—go beyond his peculiar and masterful melding of registers. For Cavafy brings his carefully and idiosyncratically constructed Greek idiom face to face with older incarnations of the Greek language in the very poems in which he poses the question of Hellenism. While closely examining the linguistic texture of these poems and their importance for our understanding of Cavafy's historical poetics and linguistic politics, I will also be placing Cavafy's work in a broader context of twentieth-century poetic practice.