Adam Kemezis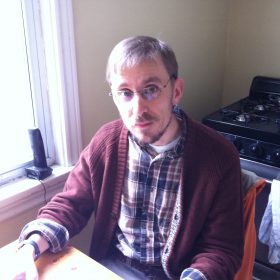 I am a Roman historian working on the mid-to-late Imperial period (2c-4c AD). My research focuses mostly on literary texts in both Latin and Greek, especially historiography and other narrative genres. Most of my publications deal with Greek-language authors including Cassius Dio and Philostratus and also broader topics involving Greek literature and culture under the empire. Currently, I am working on several aspects of the literary representation of Roman emperors, including in Tacitus and the Historia Augusta. This quarter at UCLA, I am teaching courses on "Lucian and His Times" (graduate-level) and "Ancient Warfare" (undergraduate).
Education
AB – Stanford (1999)
PhD – Michigan (2006)
Publications
Monograph
Greek Narratives of the Roman Empire under the Severans: Cassius Dio, Philostratus and Herodian. Cambridge University Press, 2014. Reviews in AHB, BMCR, CR, Histos, Mouseion, JHS, JRS.
Edited Volumes
(Co-edited with Patrick Hogan) Writing Imperial Politics in Greek. Special issue of CW 110.1-2 (2016-7)
Urban Dreams and Realities in Antiquity: Remains and Representations of the Ancient City. Brill, 2014.
Articles and Chapters:
"Inglorius labor?: The Rhetoric of Glory and Utility in Plutarch and Tacitus," in CW 110.1 (special issue on "Writing Imperial Politics in Greek"), p. 87-117.
(Co-written with Patrick Hogan) "Introduction: The Empire's Second Language?" in CW 110.1 (special issue on "Writing Imperial Politics in Greek"), p. 31-42.
"Caesar's Vesontio Speech and the Rhetoric of Mendacity in the Late Republic (Dio 38.36-46)," in Cassius Dio: Greek Intellectual and Roman Politician, Carsten Lange and Jesper Majbom Madsen, eds. Brill, 2016: 238-57.
"The Fall of Elagabalus as Literary Narrative and Political Reality: A Reconsideration," in Historia 65 (2016): 348-90.
"Flavian Greek Literature," in A Companion to the Flavian Age, Andrew Zissos ed.. Wiley-Blackwell, 2016: 450-68.
"Greek Ethnicity and the Second Sophistic," in A Companion to Ethnicity in the Ancient Mediterranean, Jeremy McInerney, ed.. Wiley-Blackwell, 2014: 390-404.
"Politics and the Fictional Narrator in Philostratus' Apollonius," in CA 33.1 (2014): 61-101.
"Introduction" in Urban Dreams and Realities in Antiquity: Remains and Representations of the Ancient City. Brill, 2014.
"Commemoration of the Antonine Aristocracy in Cassius Dio and the Historia Augusta," in CQ 62.1 (2012): 387-414.
"Narrative of Cultural Geography in Philostratus' Lives of the Sophists," in Regards sur la Seconde Sophistique. Pascale Fleury and Thomas Schmidt, eds., U. of Toronto Press, 2011: 3-22.
"Lucian, Fronto and the Absence of Contemporary Historiography under the Antonines," in AJP 131 (2010): 285-325.
"Augustus the Ironic Paradigm: Cassius Dio's Portrayal of the Lex Julia and Lex Papia Poppaea," in Phoenix 61 (2007): 270-85.
Reviews and Other Publications:
Review of K. Welch, ed., Appian's Roman History: Empire and Civil War. In BMCR 2016.11.32.
Review of A. Free, Geschichtsschreibung als Paideia: Lukians Schrift 'Wie man Geschichte schreiben soll' in der Bildungskultur des 2 Jhr n. Chr, in Sehepunkte 16.6 (2016).
Review of A. Galimberti ed., Erodiano e Commodo: Traduzione e commento storico al primo libro della Storia dell'Impero dopo Marco in Anzeiger für die Altertumswissenschaft 68 (2015), col. 55-58.
Review of J. M. Madsen and R. Rees, edd., Roman Rule in Greek and Latin Writing: Double Vision in Histos 9.
Review of C. Davenport and J. Manley, eds. Fronto: Selected Letters in CR 65 (2015): 157-9.
Review of J. Langford, Maternal Megalomania: Julia Domna and the Imperial Politics of Motherhood in BMCR March 2014.
Review of C. Rowan, Under Divine Auspices. CJ Online Reviews, November 2013
Review of A.G.G. Gibson (ed.), The Julio-Claudian Succession in AHB Online Reviews 3 (2013).
Review of L. Kim, Homer between History and Fiction in Imperial Greek Literature in Phoenix 66.1/2 (2012): 182-84.
Review of D. Mattingly, Imperialism, Power and Identity: Experiencing the Roman Empire in Mouseion 9.2 (2009): 194-99.
Review of K. Demoen and D. Praet, eds. Theios Sophistes: Essays on the Vita Apollonii in BMCR October 2009.
Encyclopedia entries "Commodus" and "Philippus Arabs" in Oxford Encyclopedia of Greece and Rome, 2009
Review of C.P. Jones ed. and trans. Philostratus: Apollonius of Tyana vol. 3 in BMCR July 2007.
Review of P.M. Swan, The Augustan Succession: An Historical Commentary on Cassius Dio's Roman History, Books 55-56 (9 B.C.-A.D. 14) in BMCR July 2005.
In Progress:
"The Biographer as Literary Artist: Form and Content in Philostratus' Apollonius," for the Oxford Handbook of Greek and Roman Biography, Koen de Temmerman, ed. Submitted, awaiting completion of volume.
"Beyond City Limits: Citizenship and Authorship in Imperial Greek Literature," for volume Citizenship(s) and Political-Religious Self-Definitions in the Roman Empire, Katell Berthelot and Jonathan Price, eds. Volume under review with Peeters.
"Pater semper incertus: Tacitus and the Father of Agricola." Under review with journal Antiquitas aeterna.
"Inventing Traditions and Constructing Monarchy in the Historia Augusta," for edited volume Les historiens grecs et romains: entre sources et modèles, Breno Battistin Sebastiani and Olivier Devillers, eds. Volume under review wth Ausonius.
"Parallel Narratives and Resolutions in Appian, Florus and the Greek Novels." Planned chapter in book based on Boston Literary Interactions conference. Ed. by Alice König, Rebecca Langlands and Chris Whitton.
Commentary on Cassius Dio, Books 38-40. Planned manuscript for ongoing Oxford University Press serial commentary.
(with A.V. Makhlayuk and K.V. Markov) Planned edited volume Clio in the North: Selected Soviet and Russian Scholarship on Imperial Roman Historiography. Under contract with Brill.