Ella Haselswerdt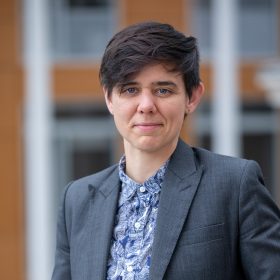 Ella Haselswerdt is thrilled to be joining the Classics Department at UCLA as an Assistant Professor. She received a BA in Liberal Arts from Sarah Lawrence College, followed by a Classics postbaccalaureate certificate from Columbia University and a PhD. in Classics from Princeton University in 2018. She has spent the last two years as a postdoctoral associate in Classics at Cornell, where she undertook a number of research projects, developed a new sex and gender course for the department, and headed up a faculty reading group with the aim of beginning to decolonize our research and teaching practices.
Ella's interests range broadly across Greek literature, with a particular focus on the aesthetics, poetics, and reception of Athenian tragedy. Her current monograph project, Epistemologies of Suffering: Tragedy, Trauma, and the Choral Subject, argues that the choral poetics of Greek tragedy are fundamental to the way that the genre makes conceptual sense of extreme suffering. At the same time, she's pursuing a range of smaller-scale projects on topics including mythic ecosystems and landscape in Sophocles' Philoctetes, the Brazilian reception of Euripides' Bacchae, the economy of antiquity in Anne Carson's FLOAT, and the reception of Sappho's fragments in queer contemporary art.
Ella comes to LA with her wife Sasha and their two cats. In her spare time she enjoys cooking, hiking, gardening, and reading contemporary fiction. As it will likely be some time before we can meet casually and serendipitously around Dodd, she hopes that members of the department (including students at all levels) will not be shy about reaching out virtually to introduce themselves.