Nicolette D'Angelo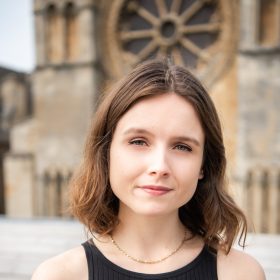 Nicolette D'Angelo is from New Jersey, and like many scholars of classical reception, her research centers on bad comparisons. She came to UCLA in 2022 after receiving an AB in Classical Studies (summa cum laude) at Princeton University in 2019, where her undergraduate thesis explored the staying power of Freudian, 'hysterical' readings of Greco-Roman gynecological texts. She then received an MPhil (with distinction) at Corpus Christi College, Oxford in 2021, supported by a US Rhodes Scholarship. Her MPhil dissertation, responding to the pitfalls and ambiguities of classicizing plague exempla in the age of COVID-19, argued for contagion as an operative model of reception, particularly public and/or digital reception. At UCLA, she is funded by a Beinecke Scholarship and a Mellon Fellowship of Distinction.
Nicolette's work more broadly applies critical queer and feminist epistemologies to the reception and exemplarity of Ancient Greek medical thought. She has forthcoming essays on the disturbing history of the queer fatherhood of Hippocrates of Cos and the role of Hippocratic ideas and pedigrees in both anti-vax and anti-trans discourses. Since 2020, she has been a co-convener of the Queer and the Classical collective.
Finally, Nicolette is passionate about public-facing and collaborative scholarship, critical pedagogy, and carving spaces for distinctly working-class/first-gen Classics, which she has discussed in an essay for Eidolon. She is always happy to speak to anyone interested in pursuing Classics or any other field of humanistic study, especially those who have been structurally excluded from accessing the resources needed to do so.