Pasqualena Brucia Breitenfeld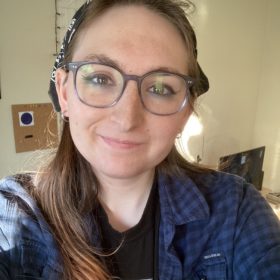 Pasqualena Brucia Breitenfeld (she/they) came to UCLA in 2022 after transferring from Boston University where she had begun her graduate studies and earned an MA in Classical Studies. Before this, she graduated from Haverford College in 2019 with a B.A. in Classical Languages (magna cum laude, with departmental honors) and a minor in Classical Culture & Society. Their undergraduate thesis examined the use of allusion in Apuleius' Golden Ass as a literary representation of political resistance to Roman colonialism and imperialism in North Africa.
Lena mainly studies Latin literature, with a particular interest in late-Republican and early-Augustan poetry, the ancient novel, and transgender studies. Her research focuses on the relationship between sexual/gender deviance and the divine, resistance to Roman colonialism, literary interpretation through postcolonial and queer lenses, and Epicurean philosophy. They are currently working on projects related to the Galli of Cybele and the Dea Syria, and the influence of representations of Andromeda on the Cupid and Psyche episode in Apuleius' Golden Ass. In her free time, Lena enjoys rewatching Star Trek: Deep Space Nine, reading X-Men comics and indulging her hyper-fixations (currently, the public water supply system of Boston and catastrophic dam failures).