Chris Johanson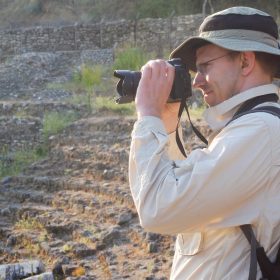 I joined the faculty in 2008 as part of a Division-wide initiative to build a digital humanities program at UCLA. My research applies the tools and techniques of digital humanities and the analytical methodologies of classics to social historical problems. I am currently developing a hybrid, geo-temporal publication tentatively titled Funerary Spectacle: Aristocratic Display in the Roman Forum, which is a study of material and literary contexts set within a digital laboratory.
My work on the Roman world connects to a larger discussion on the evolution of scholarly tools and communication, and I am keenly interested in developing new methods of historical visualization, knowledge representation, and geo-temporal argumentation. As Co-Director of the UCLA Experiential Technologies Center and as a founding member of the UCLA Digital Humanities Program, I have collaborated on mapping projects set in Bolivia, Peru, Albania, Iceland, Spain, Turkey and Italy.
Recent Publications
Johanson, Christopher. 2015. "Making Virtual Worlds." In A New Companion to Digital Humanities, edited by Susan Schreibman, Ray Siemens, and John Unsworth, 110–26. John Wiley & Sons, Ltd.
Favro, Diane, and Chris Johanson. 2014. "Jumping over the Line." In Hypercities: Thick Mapping in the Digital Humanities, by Todd Presner, David Shepard, and Kawano, Yoh, 128–33. MetaLab 3. Harvard University Press.
Johanson, Christopher. 2014. "The Three-Dimensional Model: Digging into Information Design." In The Excavation of the Prehistoric Burial Tumulus at Lofkënd, Albania, by John Papdopoulos and Sarah Morris, 532–36. Los Angeles: Cotsen Institute of Archaeology Press.
Saldana, M., and C. Johanson. 2013. "Procedural Modeling for Rapid-Prototyping of Multiple Building Phases." ISPRS – International Archives of the Photogrammetry, Remote Sensing and Spatial Information Sciences XL-5/W1 (February): 205–10. doi:10.5194/isprsarchives-XL-5-W1-205-2013.
 Johanson, Christopher, Elaine Sullivan, Janice Reiff, Diane Favro, Todd Presner, and Willeke Wendrich. 2012. "Teaching Digital Humanities through Digital Cultural Mapping." In Digital Humanities Pedagogy, edited by Brett D. Hirsch, 121–49. Cambridge: Open Books Publishers.
Johanson, Christopher. 2011. A Walk with the Dead. In A Companion to Families in the Greek and Roman Worlds, ed. Beryl Rawson. Oxford: Wiley-Blackwell, 408–430.
Favro, Diane, and Christopher Johanson. 2010. Death in Motion: Funeral Processions in the Roman Forum. Journal of the Society of Architectural Historians. 69, no. 1: 12–37.
Johanson, Christopher. 2009. Visualizing History: Modeling in the Eternal City. Visual Resources: An International Journal of Documentation. 25(4): 403–418.