Kathryn Morgan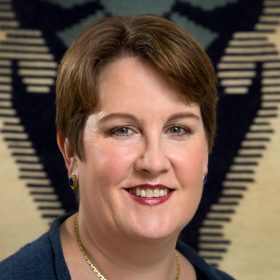 Kathryn Morgan is Professor of Classics in the Department of Classics at UCLA.  Her interests range broadly over Greek literature of the fifth and fourth centuries BC. She regularly teaches graduate seminars in Attic tragedy, Pindar and Greek lyric, and Plato, and her research oscillates between projects connected with Plato and with Pindar. The former is represented by her book Myth and Philosophy from the Presocratics to Plato, and by her ongoing involvement in the series Studies in Ancient Greek Narrative (published by Brill), where she is responsible for the chapters covering Plato. Pindar is the subject of her most recent book, Pindar and the Construction of Syracusan Monarchy in the Fifth Century B.C. (2015), where she examines Pindar's victory odes for Hieron of Syracuse and the program of tyrannical self-representation to which they contributed.  Ongoing research includes book projects on Plato's conception of history and on historical narrative in the Persians of Aeschylus. She has served on the Program Committee and the Board of Directors of the Society for Classical Studies, and is currently a member of the Nominating Committee.
Education
Ph.D., Classics, University of California, Berkeley (1991)
M.A., Greek, University of California, Berkeley (1984)
B.A., Greek and Latin summa cum laude, Bryn Mawr College (1982)
Research
Classical Greek Literature and Culture
Greek Intellectual History
Plato
Pindar
Articles
"Epic and Comedy in Plato's Protagoras." In Plato's Poetics. Essays from Beijing, edited by Rick Benitez and Keping Wang.  Berrima Glen Berrima, 2016: 151-169.
"Domesticating Invective in Plato's Laws." In Savage Words: Invective as a Literary Genre, edited by Massimo Ciavolella and Gianluca Rizzo.  New York: Agincourt Press, 2016: 106-126.
"Solon in Plato." In Solon in the Making: The Early Reception in the Fifth and Fourth Centuries, edited by Gregory Nagy and Maria Noussia-Fantuzzi.  Trends in Classics 7.1 (2015): 129-150.
"Autochthony and Identity in Greek Myth." In A Companion to Greek Democracy and the Roman Republic, edited by D. Hammer. Chichester, West Sussex: John Wiley & Sons, 2015: 67-82.
"Praise and Performance in Plato's Laws."  In Mousikē, Performance and Culture in Plato's Laws, edited by A. Peponi.  Cambridge: Cambridge University Press, 2013: 265-293.
"Imaginary Kings: Visions of Monarchy in Sicilian Literature from Pindar to Theokritos." In Sicily: Art and Invention between Greece and Rome, edited by Claire L. Lyons, Michael Bennett, and Clemente Marconi.  Los Angeles: Getty Publications, 2013: 98-105.
"Plato and the Stability of History." In Greek Notions of the Past in the Archaic and Classical Eras. History Without Historians, edited by J. Marincola, L. Llewellyn-Jones and C. Maciver.  Edinburgh: Edinburgh University Press, 2012: 227-252.
"A Prolegomenon to Performance in the West." In Theater Outside Athens, edited by K. Bosher.  Cambridge: Cambridge University Press, 2012: 35-55.
"Plato." In Space in Ancient Greek Literature.  Studies in Ancient Greek Narrative, Volume Three, edited by Irene J. F. de Jong.  Leiden: Brill, 2012: 415-437.
"Theriomorphism and the Composite Soul in Plato." In Plato and Myths: Studies on the Use and Status of Platonic Myths, edited by Catherine Collobert, Pierre Destrée, and Francisco J. Gonzalez. Leiden: Brill, 2012: 323-342.