Sarah Morris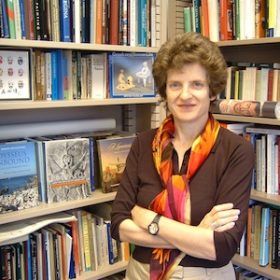 Sarah Morris is a classicist and archaeologist in the Department of Classics and the Cotsen Institute of Archaeology at UCLA. A graduate of the University of North Carolina at Chapel Hill, she received her doctorate in Classics at Harvard University, and taught at Yale University before joining the UCLA faculty in 1989, where she served as Department Chair at UCLA from 1997-2000 and chair of the Interdepartmental Ph.D. program in Archaeology at the Cotsen Institute of Archaeology from 2001-2004. She was named Steinmetz Professor of Classical Archaeology and Material Culture at UCLA in 2001.
Her training and research involve the interaction of Greece with its Eastern neighbors, in art, literature, religion and culture. Her chief book on the subject, Daidalos and the Origins of Greek Art (Princeton, 1992) won the James Wiseman Book Award from the Archaeological Institute of America for 1993. She has also edited (with Jane Carter) a volume of essays, The Ages of Homer (Texas, 1995), on the archaeological, literary, and artistic background and responses to Greek epic poetry.  A practicing field archaeologist, she has worked in Israel, Turkey, Greece, and Albania, and has recently completed a field project at Methone in northern Greece.
Her teaching and research interests include early Greek literature (Homer, Hesiod and Herodotus), Greek religion, prehistoric and early Greek archaeology, ceramics, Greek architecture and landscape studies, and Near Eastern influence on Greek art and culture.